All teaching activities (lectures, profit exams and graduation sessions) will be suspended to Saturday, February 29th 2020 inclusive, at all the University sites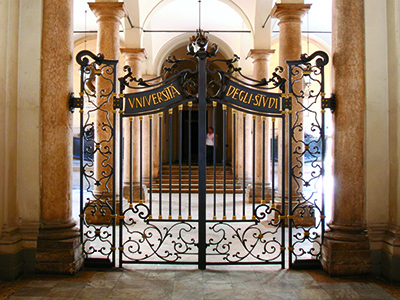 To the entire UNIMORE community
Subject: Precautionary measures against the spread of COVID-19 coronavirus infection
Dear Students and dear Colleagues,
considering the spread of the COVID-19 coronavirus infection, and in agreement with the Ministry of University and Research, the Emilia-Romagna Region and the other Universities of the Region, all teaching activities (lectures, profit exams and graduation sessions) will be suspended from Monday, February 24th to Saturday, February 29th 2020 inclusive, at all the University sites.
This is aimed to reduce the possibility of infection and facilitate students and staff members who have difficulty in moving around. The dates and deadlines of the academic calendar will be adjusted accordingly.
All other activities will proceed regularly; therefore, all building and offices of UNIMORE will be open next week following the usual schedule. 
We invite you to behave responsibly by following the instructions of the Ministry of Health and the Istituto Superiore di Sanitą, also reported at our website.
In particular, the main measures reported in the ordinance of the Ministry of Health of 21/02/2020 are listed below:
-the measure of quarantine with active surveillance, for fourteen days, to individuals who have had close contact with confirmed cases of COVID-19 coronavirus infection;
-the measure of the "fiduciary home stay" with active surveillance for those who have entered Italy in the last fourteen days after having stayed in the areas of China affected by the outbreak;
-the suspension of work activities for workers residing in the Lombard municipalities of Codogno, Castiglione d'Adda, Casalpusterlengo, Fombio, Maleo, Somaglia, Bertonico, Terranova dei Passerini, Castelgerundo and San Fiorano, and in the municipality of Vo' Euganeo in Veneto, even outside the indicated area;
-the toll-free number 1500 should be called in the presence of possible symptoms of infection.
These indications are functional to avoid the spread of the virus. We therefore invite you to collaborate and remain at your disposal for any need.
We will promptly communicate any useful updates to the UNIMORE community.
Categorie: International - english
Articolo pubblicato da: Ufficio Stampa Unimore - ufficiostampa@unimore.it il 26/02/2020