A Unimore group of researchers, headed by professor Serena Carra, has discovered a treatment for neurodegenerative diseases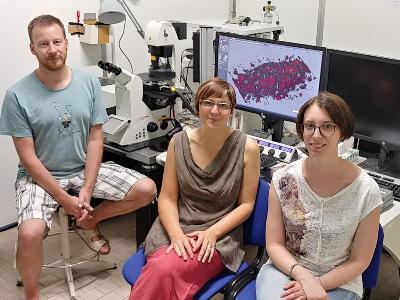 A study carried out by the research group headed by professor Serena Carra of the Department of Biomedical, Metabolic and Neuroscience of the University of Modena and Reggio Emilia, has identified a nuclear system able to process and degrade the damaged proteins penetrating the nucleus.
This result proves that alterations in the processing and degrading by specific nuclear compartments of damaged proteins, which are constantly produced by our cells, negatively affect the stability of our genome, with important consequences on our health. Therefore, pharmacological approaches helping maintain the protein balance in the nucleus, by improving the functionality of these processing compartments, should potentially stabilise our genome, slowing down the ageing process and the progress of ageing-related neurodegenerative pathologies.
The importance of this discovery is highlighted by the fact that this study was recently published on the famous international scientific journal EMBO.
"Several neurodegenerative pathologies – professor Serena Carra of Unimore reminds us - feature a build-up of protein aggregates inside the cells. Examples are diseases such as Alzheimer, Parkinson, Huntington's Corea, as well as Amyotrophic lateral sclerosis and Frontotemporal dementia.  These aggregates contain both GM proteins, associated with such pathologies, and proteins that are constantly synthetized by cells, that however, due to various mistakes occurring during normal cell functioning, lose their stability and functionality and aggregate, causing potentially toxic effects. Cells of our body have developed control systems detecting the presence of these damaged proteins and remove them to help cells functioning properly".
In the past, the removal of these proteins damaged by cell cytoplasm was widely studied. However, mechanisms that remove damaged proteins from the nucleus, containing human genome, are still unclear.
This was the focus of the study carried out by researchers from Modena, through which it was possible to identify a nuclear system able to process and degrade damaged proteins penetrating the nucleus.
"These  – professor Serena Carra of Unimore explains - are mainly confined to two compartments, nucleuli and PML bodies, to be subsequently processed thanks to the action of molecular chaperones, acting as guardians of our proteins. These conditions lead to a reduced functionality of molecular chaperones and proteasome degrading system, existing in the nucleus, and cause the conversion of nucleuli and PML bodies into an aggregate status able to seize important nuclear components, with negative consequences on the maintenance of genome. As the alterations of protein control systems and genome instability are involved in the development of neurodegenerative diseases, including Amyotrophic lateral sclerosis and Frontotemporal dementia, this data is useful to better understand pathogenetic mechanisms in charge of the progression of these devastating pathologies and offer new molecular targets for the development of future therapeutic approaches".
The research was sponsored by various agencies including first of all Fondazione AriSLA, but also European Community (JPND), Fondazione Cariplo, MAECI and MIUR, and saw the collaboration of professor Laura Mediani and Doctor Jonathan Vinet of Unimore, and professor Simon Alberti (Max Planck of Dresda, Germany)
As professor Serena Carra underlines, "I would like to point out that this discovery was made possible thanks to the passion and perseverance of highly qualified personnel, who showed a strong commitment in this delicate research despite not being stable staff".
Research of this extent would not have been possible without using advanced confocal microscopy, taking advantage of state-of-the-art tools and specialised technical support available at CIGS - Interdepartmental Centre of Great Tools, which is a Unimore facility. Purchasing such tools was possible thanks to the co-funding of the University, the Cassa di Risparmio di Modena, and the 2018-2022 Excellence Department project assigned to the Department of Biomedical, Metabolic and Neuroscience.
"At all remains is to hope – professor Serena Carra of Unimore concludes - that a farsighted policy recognises the commitment and the quality of the work carried out by our several young researchers among many difficulties, and that a strong effort comes from all levels in order to implement meritocratic and clear financing programmes, giving the opportunity to these young researchers with no stable employment to carry out research projects that like this one have an international scope, who otherwise would now run the risk to fade in their moment of greatest splendour".
Categorie: International - english
Articolo pubblicato da: Ufficio Stampa Unimore - ufficiostampa@unimore.it il 05/08/2019