Cell therapies, Modena boasts a dedicated programme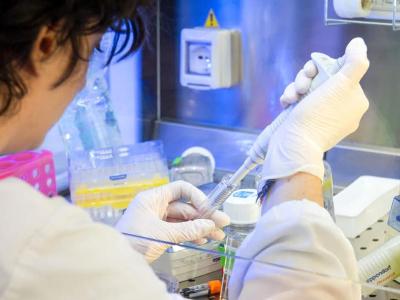 Thanks to the strong synergy between research and medical care, and to the considerable investment in diagnostic and therapeutic technology, the University Hospital of Modena is becoming a reference centre at a national level for the development of Cell Therapy in Oncology. Since the 1st May, the Hospital set up the Cell therapies and immune-oncology programme, headed by Professor Massimo Dominici who is already in charge of the Cell therapy research laboratories, aimed at promoting a business and regional network of collaborations with the professionals interested in the development of treatments based on cells, including stem cells and immunity cells. The purpose is to strengthen and improve pre-clinic research in the field of cell therapies by helping their clinical transfer with a specific focus on oncology and immuno-oncology of adults and children. 
In addition to oncology, the research programme with a healthcare impact aims to transfer 15 years of research to cells belonging to various sectors of medicine and surgery, also as a result of collaborations within the blood establishment, the radiotherapy field, paediatrics, orthopaedics, rheumatology, plastic and reconstructive surgery, cardiothoracic and hepato-billiary-pancreatic surgery, pneumology, neurosurgery, and dermatology. "Basically – Doctor Massimo Dominici explains - it is about making technologies available for the development of advanced treatments to various specialists operating in the University Hospital of Modena, in order to transfer experimental treatment strategies designed to resolve still unresolved clinical issues to a clinical field, with special focus on the treatment of cancer and oncology organ diseases (even post-surgical, post-actinic or related to medical treatments)". The programme will develop Stage 1 (certifying safety) and Stage 2 (certifying effectiveness) clinical studies representing the first steps of drug study on humans, the main objective of which are orphan cancer and pathologies still lacking standard treatment.
"This result - AOU Director General, Doctor Ivan Trenti adds - is the arrival point of a long process carried out with the essential collaboration of the University, which in 2016 saw our hospital receive the AIFA certification as Stage 1 Testing Unit and during these years obtained considerable investment in instrumental diagnostics, made possible also thanks to private entities and institutions. The hospital has valued such generosity in view of an overall diagnostic and therapeutic project aimed at promoting the development of therapies targeted against cancer, buying equipment for PET, Magnetic Resonance and Linear Accelerator, designed to promote the development of specific research projects and assess their progress. Lastly, this project makes us extremely proud as it is cross-functional to the two establishments of our hospital, thanks to the involvement of Neuroscience in Baggiovara."
"The creation in Modena of the first centre of this kind for cell therapies representing the future of the treatment of many diseases is for us a great source of satisfaction – the President of the Department, Professor Giovanni Pellacani remarks. Our department is very proud of this new centre, as it confirms our great ability to be the fulcrum of teaching, research, and assistance activity that is the mission of a University Hospital. This centre may also be an important driving force to increase the appeal of the teaching offer of our University".
The programme will involve the staff of Research Laboratories, of which Professor Dominci is in charge, and that recently acquired an equipment for exosome/microvesicle analysis, able to analyse the "dust" released by cells in the blood in search of "traces" of cancer or viruses. Doctors and nursing staff of other important healthcare departments of the hospital may also be involved, to take advantage of their considerable skills. 
Lastly, research activities provide for a possible public-private collaboration aimed to present the programme as partner for care strategies developed by the pharmaceutical industry within cell/genic therapies and immunotherapy. This is also the result of sharing the know-how in the field and of the presence of national and international collaboration networks. The collaboration with the techno pole of Mirandola is essential in this field. 
"The use of cells such as therapy aids in medicine – Doctor Massimo Dominici explains - originates from bone marrow transplants for haematological diseases. However, thanks to the technological development it is now possible to broaden the spectrum of pathologies that could benefit from cell-based therapies. My research group and I have been trying to create new therapeutic aids in which the active elements are cells and immunity. The introduction of genic engineering techniques enabled us to modify stem cells and lymphocytes with the purpose of generating and enhancing the anticancer action". Currently, our main focus is the treatment of pancreatic cancer and we expect to reach a Stage 1/2 study of genic therapy in humans in 2020. Other possible targets are mesothelioma and some rare forms of sarcomas". 
In 2020, the first project on pancreatic cancer
The first research target will be pancreas cancer, for which a specific Therapeutic Diagnostic Path is available at the university hospital of Modena. Recently, the Nature, Scientific Reports open access journal has published relevant data from the laboratories of Oncology of the University Hospital of Modena, on a new genic therapy for pancreas cancer based on fat cells that have been modified to release anticancer molecules. The study showed for the first time in pre-clinic models that fat human cells may produce a powerful variant of TRAIL anti-cancer agent known as TRAIL against pancreas cancer cells, confirming a pre-clinic safety and effectiveness. 
The Nature Scientific Reports publication is in line with a further step forwards recently published on the renowned scientific journal Theranostics, relating to the chance of combining chemotherapeutic agents with TRAIL release by fat cells to create synergies aimed at mitigating the resistance mechanisms that are too often part of this still quite life-threatening cancer. 
"From a certain point of view – Professor Massimo Dominici explains – we have a paradox here. Fat is an important risk factor for many types of cancer, still we have demonstrated that fat cells may be a vehicle to remotely guide genetic drugs against cancer. We have the chance to transform this "favour" that an overweight organism does to cancer into a strong anti-cancer weapon".  
This work follows a set of other research activities successfully published and presented at international level. The positive results of pre-clinic studies allow us to start stage one experiments on humans, also thanks to the Rigenerand start-up collaboration. A small company founded in 2009 by UNIMORE researchers and located in Medolla, now it is a state-of-the-art pharmaceutical reality for the production of anti-cancer genic therapies.  
"So far we have been testing our insights on animals, and the good results obtained enable us to transfer them to humans – Professor Dominici added. By 2020, the new programme will encourage the starting of Stage 1 and 2 on humans. If the results on patients also prove positive as we hope, we could develop new drugs against pancreas cancer that unfortunately is one of the most serious types. However, our technology requires a huge effort and the right moment with a suitable regulatory path for these findings to be transferred to the clinic, in association with chemotherapy". 
Immunologic therapies, neuroblastoma and brain cancer
The programme also aims to develop an immuno-oncology approach in connection with the alteration of immunocompetent effectors, such as lymphocytes, to have them express a selective antibody structure against a membrane molecule, GD2, which can be found in several neoplasms including small carcinomas, neuroblastomas, sarcomas, some breast cancer, gliomas, and melanomas. "These lymphocytes - Dominici concludes - known as chimerical lymphocytes or CAR lymphocytes, are able to complete a selective antigenic recognition by causing the death of cells expressing the target molecule. Also in this case, in vitro and in vivo studies showed the potential of the approach towards cancer lines that are specifically expressing GD2, in particular for paediatric cancer neuroblastoma. The same technology is now being applied in laboratories with the long-term objective of treating brain cancer, and glioblastoma in particular".
Categorie: International - english
Articolo pubblicato da: Ufficio Stampa Unimore - ufficiostampa@unimore.it il 15/07/2019