A female student of Unimore is awarded the study grant Giovanni Armenise Harvard Foundation of Boston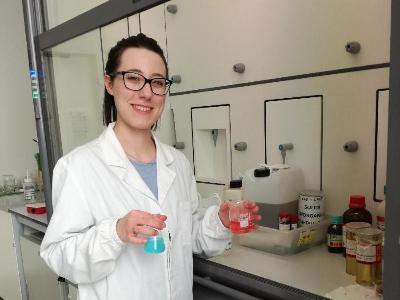 Unimore student Beatrice Bighi, enrolled in the first year of the Master's degree programmein Chemical Sciences of the Department of Chemical and Geological Sciences, has won the study grant offered by the Giovanni Armenise Harvard Foundation- GAHF of Boston in the US.
For the first time, a Unimore student is awarded this highly selective prize, assigned by a board made of members of the Harvard Medical School of Boston, who evaluated the qualifications of the applicants and interviewed them in English, asking them to talk about their previous study and research experience, as well as the design of a feasible research at a laboratory of the US school.
Beatrice Bighi will therefore have the opportunity to carry out a two-month research period, from 1 July to 31 August 2019, at the laboratory of professor James Chou at the Biological Chemistry and Molecular Pharmacology Department (BCMP) of the Harvard Medical School. 
 "The result obtained by Beatrice Bighi is particularly relevant, because for the first time a study grant is given to a Unimore student, who will have the opportunity to explore research environments that are different from our University's. For us, professors of the Master's degree programme in Chemical Sciences of Unimore, the result obtained by Beatrice is a matter of great satisfaction - professor Gianantonio Battistuzzi, President of the Council of the Degree Programme in Chemical Sciences remarks - because it proves both the excellent background of the students enrolled in our degree programme, and the versatility of their training".
Beatrice Bighi was born in Suzzara (Mantua) on 4 April 1995. She took the diploma at the Scientific High School "A. Manzoni" of Suzzara and the three-year degree in Chemistry at Unimore scoring 110 with honours.
Categorie: International - english
Articolo pubblicato da: Ufficio Stampa Unimore - ufficiostampa@unimore.it