The Department of Linguistic and Cultural Studies leads the CHILD-UP European project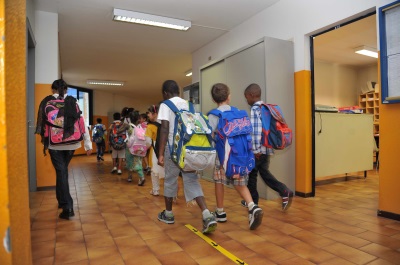 Once again, Unimore research is the leader of an European project. The CHILD-UP project, dealing with topics relating to the school integration of migrant and refugee children, will be leaded by the Department of Linguistic and Cultural Studies.
CHILD-UP - Children Hybrid Integration: Learning Dialogue as a way of Upgrading Policies of Participation, financed within the European line HORIZON 2020 for three million euros, will be coordinated by the research group from Modena that sees the participation of professors Claudio Baraldi, Laura Gavioli, Vittorio Iervese and Elisa Rossi of the Department of Linguistic and Cultural Studies.
Together with Unimore, Nine additional universities will be involved, such as the University of Cracow (Poland), Dresden (Germany), Liege (Belgium), Malmö (Sweden), Northampton (UK), Seinäjoki (Finland), the European School Head Association (ESHA), the Fondation des Regions Europeennes pour la Recherche en Education et Information (FREREF), the International Institute of Humanitarian Law.
"The project is an initiative of the research group of the Department of Linguistic and Cultural Studies at UNIMORE, well supported by its international research office. Unimore professor Claudio Baraldi pointed out that "its importance lies in linking a broad research activity in seven European countries, to the production of tools aimed at ensuring an improvement in the participation and integration processes of the new generations of migrant origins in schools and communities. For this reason, university research groups will cooperate with partners dealing with educational practices, both at international and national level. It is therefore an excellent opportunity to value the educational experience in schools and on the territory".
The project started in January 2019 and will last for three years, providing for the establishment of an international scientific board and an international committee, as well as stakeholders local committees, that will include schools, school and political authorities, and organisations within the private and social field dealing with education and cultural-linguistic mediation.
The research activity will be carried out in 7 European countries and will deal with the integration of migrant and refugee children in schools and local communities, with the support of local networks and an international network of stakeholders and experts.
The final objective of the project is to suggest methodologies and tools to support and improve the school and social practices for integrating children in Europe.
In Italy, research will be carried out in three cities: Modena, Reggio Emilia, and Genoa. Questionnaires will be distributed in 45 school classes from pre-schools to high-schools, in three social services and in three centres for migrants. 33 focus groups will be organised in 33 school classes, 55 interviews and focus groups with teachers, educators, social assistants and linguistic mediators. In 33 classrooms, 84 activities will be video or audio recorded on topics like teaching Italian as second language, facilitation, intercultural education, cultural and linguistic mediation, and questionnaires will be distributed to assess their impact. 
At the end of the research activity, in addition to a final report, some products will be realised that will be used to improve the policies and practices to integrate migrant and refugee children in the school system at local, national and European level. More specifically, these products are: a training package of traditional and online classes, guidelines for carrying out good practices, an archive of materials that are the result of research to highlight the good practices in a more articulated and complex way.
Categorie: International - english
Articolo pubblicato da: Ufficio Stampa Unimore - ufficiostampa@unimore.it