Unimore Professors Michele De Luca and Graziella Pellegrini have been awarded the prize 'Lombardia č Ricerca 2018'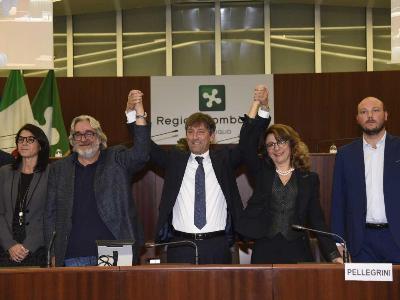 The Regional Council presented the winners of the Prize 'Lombardia č Ricerca 2018'. Sponsored by Regione Lombardia, the acknowledgment gives 1 million euro to the best scientific discovery in the Life Science field, based on the decision of a Jury made of 15 internationally renowned scientists. Two out of the three winners were present at the prize giving, professors Michele De Luca and Graziella Pellegrini, director and coordinator respectively of the Cell Therapy of the "Stefano Ferrari" Regeneration Medicine Centre of the University of Modena and Reggio Emilia. They were welcomed by the chairman of Regione Lombardia, Mr. Attilio Fontana, the deputy-chairman and minister for Research, Innovation, University, Export and Business Internationalisation, Mr. Fabrizio Sala, and the deputy-chairman of the regional Council, Ms. Francesca Brianza.
EPIDERMOLYSIS BULLOSA AND TREATMENT OF BUTTERFLY CHILDREN - The winning team, made of De Luca and Pellegrini, and also surgeon Tobias Hirsch, convinced the jury unanimously for the ex vivo genic therapy for the treatment of Epidermolysis Bullosa or Butterfly Children disease, of which they are global pioneers. It is an extremely important discovery, made famous by the clinic application involving a 9-year-old child, Hassan, a Syrian refugee who was hosted in Germany with his family, who had lost almost his entire skin at the age of 7 and thanks to the surgery performed by young surgeon Tobias Hirsch and his team, leaded by De Luca himself, can now lead a normal life. Epidermolysis Bullosa is actually a rare and disabling genetic disease causing bubbles and injuries on the skin and internal membranes. Its name comes from the fragility of a butterfly wings, similar to the epidermis that detaches from derma.
FONTANA: THE REGION SEES THE FUTURE IN ITS RESEARCH AND INNOVATION - "I am very proud - chairman Fontana remarked - that such great scientists help further develop this sector within our territory. I have always believed that one of the greatest merits of Regione Lombardia is its ability to see its own future through research and innovation, and encourage investment to support them. Therefore, it is for me a great pleasure to introduce who has studied and found an experimental treatment to defeat this disease. I would like to thank them on behalf of Regione Lombardia and most of all people of Lombardy who can count of their extraordinary intelligent minds."
SALA: WE ARE AWARDING A WORLD-CLASS DISCOVERY - "With this prize we are awarding a world-class discovery, which sets the ground for perspectives that you couldn't think of until a few years ago, and gives the opportunity to treat several other skin diseases, and may also be applied to more common diseases" , deputy-chairman Fabrizio Sala stated. The Jury established that 70% of the Prize be dedicated to the development of activities on the territory in collaboration with the Lombard research system. For us it is an important feedback both in terms of competitiveness and employment. Indeed, with this Prize and our policies we are making Lombardy an increasingly attractive region in terms of Research and Innovation, a land where you can be brave and make a winning insight become real."
PELLEGRINI AND DE LUCA: THIS PRIZE GIVES US THE OPPORTUNITY TO CONTINUE OUR RESEARCH FIGHTING RARE DISEASES - "Reporting our research to an unusual audience for scientists such as the regional Council, which proved to be very sensitive and attentive, was an exciting experience", Grazia Pellegrini and Michele De Luca added. "We are grateful to Regione Lombardia for awarding our work with a significant financing, which will allow us to continue develop our projects to the benefit of patients suffering from rare diseases and without therapeutic resources such as "butterfly children".
The chairman of the Jury, professor Giuseppe Remuzzi, the delegates of the Umberto Veronesi Foundation and the representatives of families with children suffering from Epidermolysis Bullosa (EB) were also present at the prize giving. The official awarding ceremony of the Prize "Lombardia č Ricerca" will be held at Teatro alla Scala in Milan on next 8 November, the "Research Day" established by Regione Lombardia in memory of Umberto Veronesi, on the anniversary of his death.
Categorie: International - english
Articolo pubblicato da: Ufficio Stampa Unimore - ufficiostampa@unimore.it