The first degree programme in Occupational Therapy has now started in Damask with the contribution of Unimore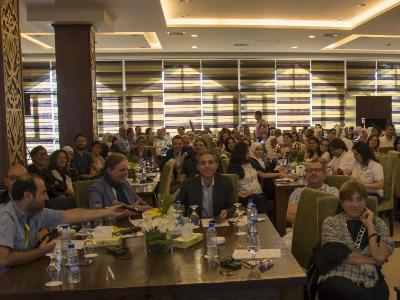 Unimore will transfer its expertise gained in the field of occupational therapy to rescue war-torn Syria in training rehabilitation professionals. Under the auspices of Unimore and Armadilla, the first degree programme in Occupational Therapy established in this middle-eastern country has now started in Damask.
"After nearly seven years since the beginning of the Crisis in Syria, even though the situation seems to become more stable and in most parts of the territory fire attacks are diminishing, - professor Maria Teresa Mascia, President of the three-year degree programme in Occupational Therapy of Unimore explains - the consequences of the conflict remain serious and wound the entire civil population, mainly the most vulnerable groups: single women, children, and people with disabilities ".
In this context, and after nearly one year of joint efforts with Syrian and Italian partners, a high-value humanitarian initiative has been finalised in the Syrian capital through an agreement between the Al Manara University and the University of Modena and Reggio Emilia, for the activation of the degree programme in Occupational Therapy. It will be based in Latakia.
The three-year programme provided by Unimore professors to Syrian students and professors, not only will represent an innovation training opportunity for young students after the high-school, but will also help alleviate the suffering caused by the conflicts that have marked Syria heavily, and create a long-lasting and true relationship between the Syrian and Italian academic worlds.
Also known as ergotherapy, Occupational Therapy is a rehabilitation discipline that uses evaluation and treatment to develop, recover or maintain the skills of everyday and work life of people suffering from cognitive, physical, and mental disabilities, by carrying out activities. It also deals with identifying and removing the environmental barriers to enhance autonomy and independence, as well as participation in daily, work, and social activities. The practice of occupational therapy is client-centred.
The new degree programme was presented in Damask last 16 and 17 September, at a high-value and strategic event, namely a Scientific Conference focusing on the value and practice of Occupational Therapy, and on innovation techniques and policies for the assistance and assignment of people with disabilities to professionals and associations of Damask society. The meeting was promoted by Armadilla, an Italian NGO that has been present in Syria for a long time and has presented the project, which is financed by the UN through UNDP. The conference saw the participation of Barbara Volta and Francesco Romagnoli, both professors of the degree programme in Occupational Therapy of Unimore.
The new three-year degree programme will be coordinated by professor Barbara Volta, representing Unimore.
Categorie: International - english
Articolo pubblicato da: Ufficio Stampa Unimore - ufficiostampa@unimore.it