Green light for a new partnership between the Enzo Ferrari Department of Engineering (DIEF) and the 3D4MEC company from Sasso Marconi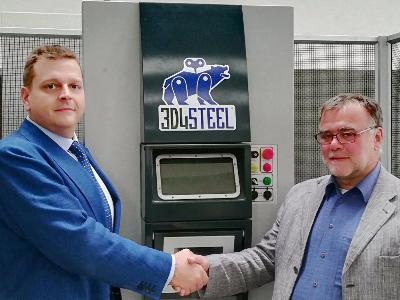 The Italian landscape of 3D printing is enhanced by increasingly accessible productive solutions, thanks to the new partnership between the Enzo Ferrari Department of Engineering of Unimore and 3D4MEC based in Sasso Marconi (Bologna).
At the MORE Manufacturing laboratory of DIEF, directed by professor Andrea Gatto, the company from Bologna, has installed - on free loan - a machine designed for the additive manufacturing of steel components (3D4STEEL system), specifically designed for stainless steels, for the value of about 250 thousand Euros. The purpose of the company is to avail itself from a constant scientific support, which would help the development of machinery; for this reason, it also undertook to finance two PhD grants for the three-year period 2019-2022.
Providing the opportunity to open new ranges of application in terms of additive technology, the machine was installed in the Unimore laboratory on 3 September this year and had its preview at FARETE, the Exhibition organised by Confindustria Emilia Area Centro and held in the Bologna Exhibition Centre on 5 and 6 September.
The machinery will be used by Unimore for research purposes, in addition to hands-on laboratory activities for engineers-to-be of Master's Degree Programmes in Mechanical Engineering, Vehicle Engineering and Materials Engineering, and of the Advanced Automotive Engineering of Motorvehicle University of Emilia Romagna.
"This new partnership is of great interest for our research group, which will be given the opportunity to experiment innovative technological/materials solutions on a small scale, and to provide a benchmarking activity to the 3D4STEEL project, compared to international giants of the sector", professor Andrea Gatto points out.
"The objective was to make the best of the skills in the automation field to develop a production machine able to operate 24 hours a day nearly without interruptions", Ivano Corsini, the designer of the 3D4STEEL project, explained. "The company believes that an essential element of its line of action is the training of a new generation of industrial designers, skilled to fully take advantage of the possibilities offered by additive manufacturing".
The MORE Manufacturing laboratory of Unimore, for which additive manufacturing is a point of strength, has been active since 2000 under the direction of professor Andrea Gatto and operates in collaboration with many local companies, but is also involved in international contexts such as the European project DREAM, of which it is leader.
3D4STEEL is the first 3D printer for steels, designed and manufactured to improve the productivity of a mechanic production flow.
For more information please contact professor Elena Bassoli, reference person for the MORE Manufacturing laboratory ( elena.bassoli@unimore.it ). 
Categorie: International - english
Articolo pubblicato da: Ufficio Stampa Unimore - ufficiostampa@unimore.it