Horacio Pagani awarded with an Honoris Causa Degree in Vehicle Engineering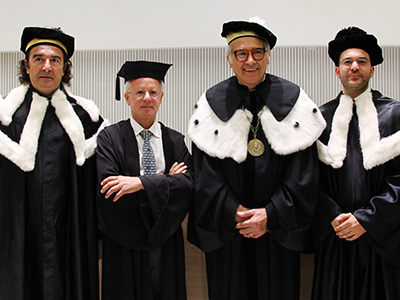 Unimore awarded Horacio Pagani with an Honoris Causa Master's Degree in Vehicle Engineering. The well-known entrepreneur of Argentinian origin, founder and Chief Designer of Pagani Automobili , is the second leading figure to receive this honorary degree from the University of Modena and Reggio Emilia. The Master's degree in Vehicle Engineering has attracted the attention of the entrepreneurial world operating in the automotive sector, as well as the interest of many young people (623 graduates since it was established).
The nomination, approved by Minister Valeria Fedeli on April 12, 2018, and by the Academic Senate of Unimore on December 20, 2017, had been put forward unanimously by the Engineering Department "Enzo Ferrari"( DIEF ) on December 15 last year, on a proposal presented by the Deputy Director of  DIEF, Prof. Luigi Rovati.
The resolution of the Engineering Department "Enzo Ferrari"  reads: "The decision to nominate  Horacio Pagani  for an honorary degree in Vehicle Enginerering rests on the excellence of his professional achievements, on his prestigious career in the design and production of supercars appreciated worldwide, his marked propensity for continued engineering research, especially in the field of composite materials, and the extraordinary economic and image impact  of his entrepreneurial activity on the national and international automotive scene" (December 15, 2017).
HORACIO PAGANI
Horacio Pagani is the founder and Chief Designer of Pagani Automobili.
After managing the Composite Division of Lamborghini, starting from 1980, he worked on the "C8" project. The result was presented at the Geneva Motor Show in 1999 under the name of Zonda, a car that was immediately recognized as a timeless classic.
In 2011, he presented the Pagani Huayra, the manifesto of a car design philosophy inspired to the the Renaissance and Leonardo, long time passions of Horacio Pagani. Created with the latest generation of composite materials, the Pagani Huayra won the three most prestigious awards in the sector, as Car Of The Year 2012.
A constant research activity in the field of composite materials has lead Pagani to develop ever new formulas, which have found application in later models such as Pagani Huayra BC and Huayra Roadster. The recent use of composite technologies developed during the first progresses with Zonda confirms the pioneering nature of its business.
Categorie: International - english
Articolo pubblicato da: Ufficio Stampa Unimore - ufficiostampa@unimore.it