Panasonic Silicon Valley Lab donates Unimore a server for research in the fields of artificial vision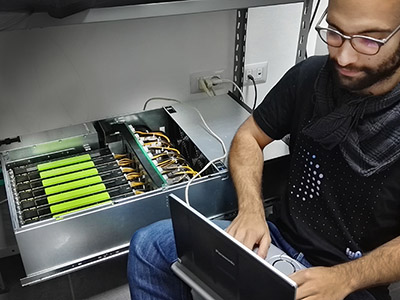 The Automotive Academy laboratories at Unimore are being enriched with innovative tools, the last one being the recent donation of an advanced GPU Server TeslaK80 cluster for research in the fields of artificial vision, by Panasonic Silicon Valley Lab. 
Unimore Rector Angelo O. Andrisano commented that "This donation is of strategic importance for our students and our internationalization activities. I am very proud of the skills achieved by DIEF laboratories, which draw the interest of multinational companies such as Panasonic, and I wish that this kind of initiatives, as well as the Facebook 2016 initiative determine the appetite of local companies for increasing their support to our research activities".
Prof. Rita Cucchiara of the Enzo Ferrari Department of Engineering adds that "The server we received will be used by all the 20 researchers of the DIEF Aimagelab research laboratory at the same time, coordinated by professors Costantino Grana, Roberto Vezzani, Simone Calderara, and myself".
Panasonic Silicon Valley Lab is also funding contracts with the Emilia Romagna university aimed at developing joint research, co-funding doctoral research students, and offer internship programmes to other doctoral students coming from the PhD school of "Information and Communication Technologies" at Unimore, hosting them in their California and Japan headquarters. 
Renowned for being one of the major multinational companies in the multimedia industry (video and audio), in its California laboratories the Japanese Panasonic is focusing on autonomous driving supporting technologies.
"Student Stefano Alletto of the ICT PhD programme has already spent six months in California to study automatic recognition tools for the motion in autonomous driving, and in a few weeks he will head off to Japan. We also expect to send another PhD student of the 32nd cycle to California in 2018", concludes Prof. Cucchiara.
Article published by:  Unimore Press Office  -  ufficiostampa@unimore.it
Categorie: International - english
Articolo pubblicato da: Ufficio Stampa Unimore - ufficiostampa@unimore.it