Professor Fabrizio Di Benedetto has been awarded the title of Fellow of the American College of Surgeons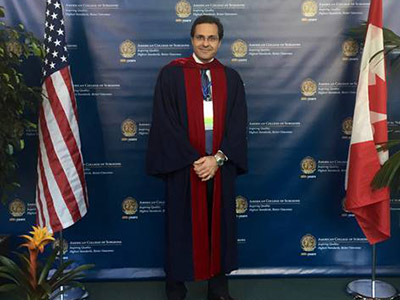 An important acknowledgment for the Director of Surgical Oncology, Hepato-bilio-pancreatic Surgery and Liver Transplantation of the University Hospital of the Polyclinic of Modena. On 22nd October, during the opening ceremony of the ACS Clinical Congress held in San Diego (California, US), professor Fabrizio Di Benedetto was appointed Fellow. "I am deeply honoured to become a part of this prestigious and ancient scientific society, and I would like to share it with my team, as together we are doing a tremendous job" – he commented. "It is also an opportunity not only for the Hospital and the University as they receive the deserved international recognition, but for the entire city of Modena as well". The title of fellow is assigned based on the curriculum and involves some benefits, including direct access to several educational resources of the American College of Surgeons.
The American College of Surgeons (ACS) was founded in 1913 in Chicago on the initiative of doctor Franklin Martin. It is a scientific society committed to promoting the highest surgery health care, through several training initiatives aimed at safeguarding health standards in an ideal practice and ethics environment. ACS activities are well known among the academic environments all over the world and many International Chapters are organised, allowing for a direct connection at a local level with the initiatives performed by the College. More specifically, the Italian Chapter promotes several training initiatives, among which the International Exchange Program that every year allows for an interchange between a young Italian surgeon and one from the US.
The ACS annual Congress has just ended and gathered surgeons from all over the world in San Diego. Surgeons from Modena gave their contribution with a presentation on "Robotic Learning Curve in a tertiary hepatobiliary Center: University of Modena experience". "The hepatic resection activity with robotic technique actually represents the major innovation in recent years in the abdominal surgical oncology field, and is a matter for great satisfaction for the patients benefiting from it " – concluded professor Fabrizio Di Benedetto. "Besides the clinical results, talking about learning curves brings the attention on the importance of providing a suitable training to young surgeons, pursuing the safety of patients. Our University focuses in particular on new technologies and on how Doctors in training acquire the skills in that field". 
Categorie: International - english
Articolo pubblicato da: Ufficio Stampa Unimore - ufficiostampa@unimore.it